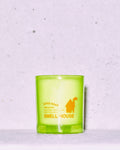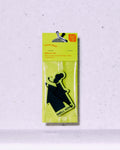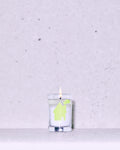 Love this scent!
I love this candle! I got the sample size and I can't stop smelling it. Smells fresh and inviting, exactly like a delicious green juice.
A very fresh scent indeed!
The Juice Hoax candle gave our room a lively and fresh vibe, I will definitely buy again and give as a gifts! The candles are long lasting which is a great value too, the 2 wicks are great.
If Heaven had a smoothie station..
So freaking good. Literally smells like a juice bar I used to work at, with a touch of jolly rancher lol. I got the anywhere freshener and made the mistake of storing it with a freshener of another fragrance (All Inclusive - also a delicious Smell House fragrance), which unfortunately picked up the celery notes from Juice Hoax - you've been warned.
I agree with one of the reviews that said it wasn't as botanical as expected (I hope Smell House tries their hand at a braver and fresher green and botanical fragrance). That said, Juice Hoax is still juicy and awesome so I'm definitely ordering it again - though I will be storing smarter moving forward.
We're stoked to hear that you love Juice Hoax - it's been one of our favorites from the start! Thanks so much for your support & for the great and honest feedback. Have a wonderful holiday season!
Not Really What I Was Looking For
I didn't smell the tomato or tomato vine at all. The air freshener mostly smelled like spearmint and greens. It was still pretty nice, but it was not what I was looking for.
WOAH
Honestly can't really explain how accurate the name of this candle is? I love it so much and can't wait to make this the scent of summer 2022!!!
DINNER PARTY


$5.00

PAPER WRAPPED


$5.00